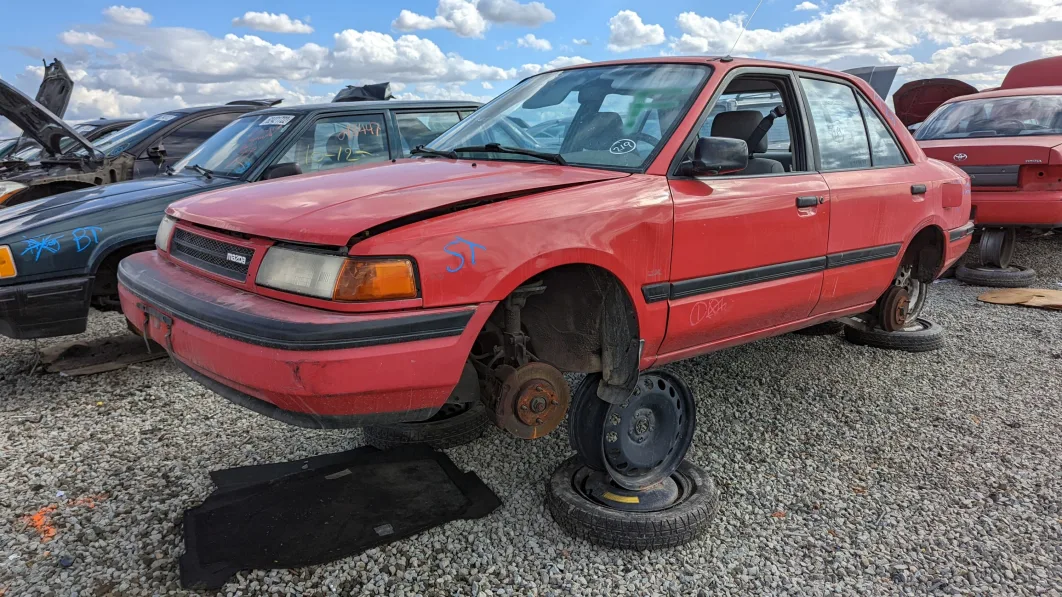 ---
the toyo kogyo company first began importing the
mazda
familia to the united states in 1971. various names for the us-market familia were used at first (including 1200, r100, 808 and rx-3), but eventually the company settled on glc (which stood for great little car and featured a catchy little tune in its tv commercials) in 1976 and stuck with it for quite a while. the glc went to front-wheel-drive for the 1981 model year, and then
mazda
switched the name to 323 when the familia got an update for 1986. for 1990, presumably while the automotive world was distracted by the brand-new mx-5 miata, the north american familia sedan became the protegé, while the hatchback kept the 323 name until getting axed after 1994. here's one of those early protegés, found last fall in a northern california boneyard. as with the
cadillac
allanté, plymouth volaré and
oldsmobile
troféo, it's important to keep the accent when writing about the protegé.
mazda
continued selling the protegé all the way through the demise of the familia itself, in 2003 (when you could get a zoom-zoomified
mazda
speed mp3 version). after that, the
mazda
3 took over. the family tree for this car would show a lot of interesting branches leading to
ford
models we could buy here, including the post-1990 north american
ford
escort, the
mercury
tracer and the australian-built 1991-1994
mercury
capri. this one has a 1.8-liter b-series straight-four, larger-displacement cousin to the engine under the hood of the '92 miata (which got this engine starting in 1994). horsepower was rated at 125 in this application. this car would have been lots of fun to drive with the base five-speed manual transmission (early-1990s protegés generally eat up same-era integras and sentra se-rs on the race track, based on what i've seen at the 150+ 24 hours of lemons races i've worked, though much of that has to do with
mazda
's superior reliability under race conditions), but this car has the fun-sapping slushbox installed. the msrp on this car, which appears to be an upscale lx model, was $11,299 (about $24,283 in 2023 bucks). the similarly-equipped 1992
honda
civic lx sedan listed at $11,585 ($24,897 now), while the
toyota
corolla deluxe sedan was $10,408 ($22,368). the 1992
ford
escort, a very close relative of the protegé, started at $9,795 ($21,051 today) for the sedan. this one got tantalizingly close to the magical 200,000-mile mark, but fell a bit short. it survived on the rough-on-cars streets of san francisco for many years, based on this thick stack of residential parking permits. zone i is the mission district, where i lived around the time this car was new, and where i always left all the windows open and doors unlocked on my primered-out 1965 impala sedan (to avoid having the windows smashed by thieves looking to steal 14¢ from the ashtray). it's possible that i saw this car every day, back in that era. the utility of a small sedan, inbred with the muscle tone of a sports car… with $1,000 cash back (thanks to the recession that was on at the time). it just feels right. in its homeland, this generation of familia got a catchy tune from the sadistic mika band in its ads.
source:autoblog.com