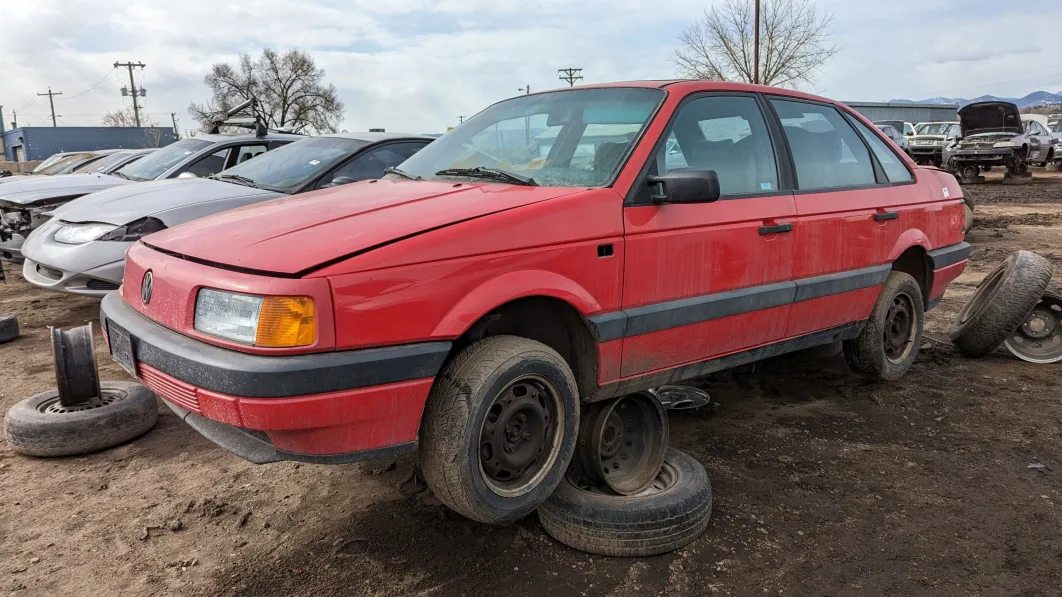 ---
sometimes a car gets babied for decades from day one, its every maintenance item performed on the dot and its every night spent shielded from the elements in a garage. generally, things go downhill for such a vehicle once it reaches its second or third owner, and it ends up suffering abuse and/or neglect for its last few years prior to showing up in its final parking space. that's not what happened to today's junkyard gem, which appears to have been brought to a denver-area self-service car graveyard while still in near-perfect cosmetic condition. there's not a significant dent or rust spot anywhere on this passat's body, and the interior looks like it just left the showroom last month (not counting damage caused by junkyard shoppers, of course). i'm guessing that this is a one-owner car that didn't get driven much, and that it developed some mechanical problem that would have cost far more to repair than the resale value of a three-decade-old passat. it's also possible that it's a high-mile car that got traded in (presumably on a new vw) and then wouldn't sell at auction because a 30-year-old european sedan scares used-car shoppers (who mostly want trucks these days, anyway).
volkswagen
adopted electronic odometers early, so we can't know the final mileage without powering up the ecu and waking up the gauges. in 1993, the gl was the cheapest passat trim level. the msrp on this car was $17,610, which comes to about $36,945 in 2023 dollars. that price was for a passat gl with five-speed manual transmission, though. this car has the optional four-speed automatic, which added $875 to the cost ($1,836 today). the 1993 passat gl came with this 2.0-liter inline-four gasoline engine, rated at 134 horsepower. the glx models had 172-horse vr6 engines that year. no diesel option was available in the us-market passat for 1993 (plenty of the old dashers were sold here with oil-burners installed), but the diesel passat returned here for 1997. later on, the dieselgate scandal hammered passat sales in a big way. power windows and this cassette deck with an input jack for a portable cd player came as standard equipment. some
mitsubishi
vehicles had aux jacks around this time, too. the passat had a facelift for the 1994 model year, so this is the last year for the b3 version (sold in north america starting in the 1989 model year). continental
volkswagen
in littleton (which is now mcdonald
volkswagen
) was located just four miles from this car's current location. it was sold new in the suburbs just south of denver, and it will be crushed in the same area. perhaps it never left colorado during its life. in 1993, american
volkswagen
shoppers could get a new passat in wagon or sedan form.
volkswagen
stopped building the north american-market passat last year. that's a sad milestone, because the 1974 passat (with dasher badging) was the first water-cooled
volkswagen
model sold new in the united states, beating the golf (with rabbit badging) to showrooms by a year. you can still buy new passats in europe, china, japan and elsewhere, of course. there's nothing like a home-market promotional film for a german car. maybe it's best for a passat-driving blind date to identify himself as something other than "the guy with the
volkswagen
."
volkswagen
had moved well beyond the air-cooled beetle by the 1990s, but vwoa's marketers must have felt that the passat needed a "you won't believe it's a
volkswagen
" pitch. this was the era of vw's incomprehensible (to english-speakers) fahrvergnügen advertising campaign. those röck döts did remind us of udo dirkschneider's voice, at least. during a bitter election year, passat's ability to carry a large constituency was crucial.
source:autoblog.com