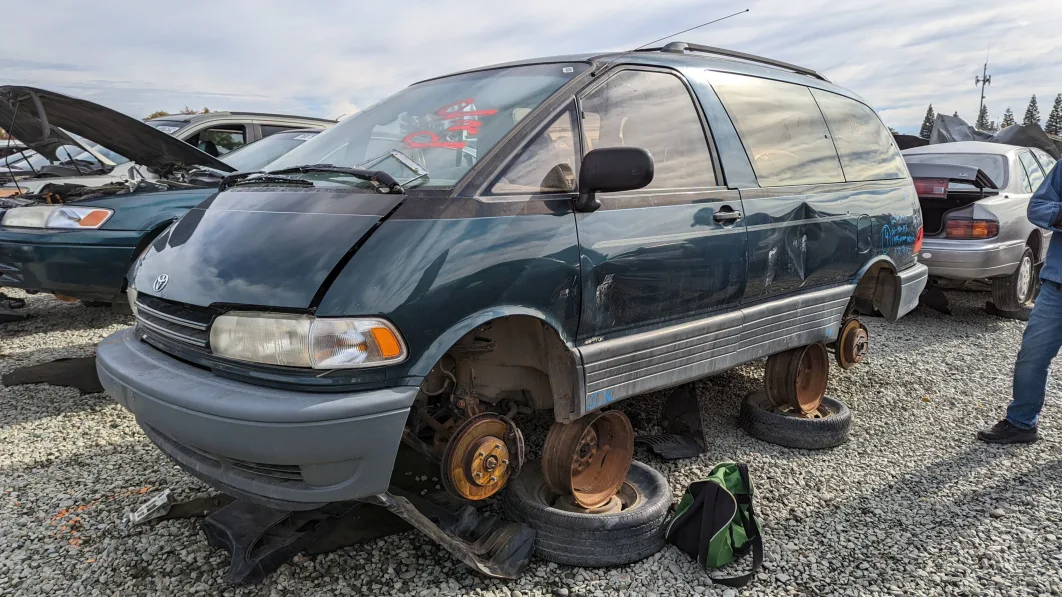 ---
toyota
did passably well selling its van (the model name it applied to the masterace surf in north america, following the precedent of selling the hilux pickup as the truck) here during the 1980s, and the decision was made to follow it up with an americanized version of the
toyota
estima van. this was the previa, a family-hauling machine that looked odd but packed a lot of interesting hardware under its egg-shaped body. here's a mid-production previa with a supercharged engine and the all-trac awd system, found in a northern california self-service junkyard a few months ago. the previa was sold here for the 1991 through 1997 model years, after which it was replaced with the much bigger and more traditional sienna. the idea was that the previa would compete with the plymouth voyager/
dodge
caravan/
chrysler
town and country for sales, but it had been designed for the japanese home market and proved a little too radical for most american
mini
van shoppers. even once prospective buyers got past the body shape—which was supposed to resemble an egg—they learned that the engine was a straight-four laid on its side and placed beneath the front seats. the powertrain layout gave the previa great handling and a lot of interior space on a small footprint, but it also made it impossible for
toyota
to squeeze in a v6 engine. that meant that the 1991-1993 previas were underpowered for hauling heavy loads at american highway speeds.
nissan
had tried to solve its own underpowered mid-engined van problem by shoehorning a big engine into a too-small engine compartment, back in the 1980s, with disastrous results.
toyota
decided on a different approach: take the small-displacement roots-type supercharger it was using in mr2s and remote-mount it (with an intercooler) with the alternator and other accessories that lived up by the previa's front bumper. this gave the 1994-1997 previas a respectable 158 horsepower (and these cool-looking s/c badges) while increasing fuel economy at the same time. all-wheel-drive had become a big selling point on
mini
vans by the 1990s, and so
toyota
offered the all-trac awd system in the previa. this van is so equipped. all rear-wheel-drive previas were available with five-speed manual transmissions (as were caravans and voyagers, at least until 1995), but only the 1991-1992 previa could be purchased with both a five-speed and all-trac. this van has an automatic. you'd think that all that complicated hardware and blower boost would have killed these vans quickly, but it's very rare to find a previa today with less than 200,000 miles showing on the odometer. many of the junkyard examples i find have made it well past the 300k mark. the jdm ads for this van are way more fun than the ones we got here, so let's watch those first. v grade with super charger! the venerable gaijin philosopher orders an estima with optional blower from his lunch menu. meanwhile, in the usa. ohhh, the sacrifices we make for our children. in australia, the estima was known as the tarago. be sure to watch for the canine crash dummy in this ad.
source:autoblog.com