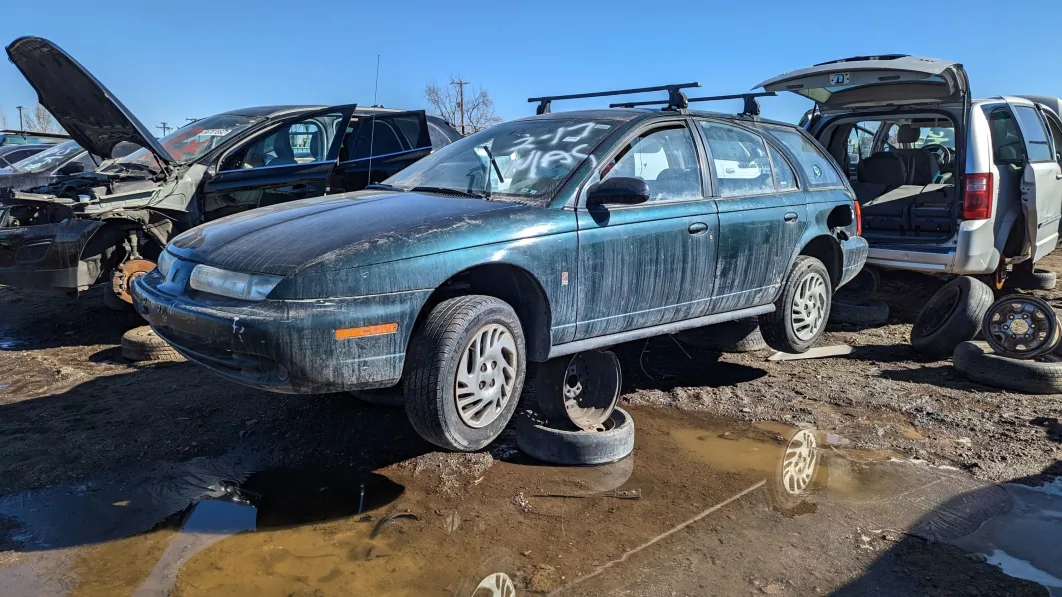 ---
general motors announced the demise of the
saturn
division in 2009, with the final vues and outlooks leaving showrooms as 2010 models. go back to the 1990s, though, and
saturn
was orbiting high with its no-haggle sales and rust-proof plastic body panels. during that decade, before opel-derived models appeared, there was just one
saturn
available: the s series. today's junkyard gem is an example of the longroof model of that car, found in a denver-area self-service boneyard. the first model year for the
saturn
station wagon was 1993; production continued through 2001 (the sedan and coupe held on through 2002, after which they were replaced by the opel-based ion).
saturn
used a very simple naming system for the members of the s series family: the sedans were sls, the coupes were scs and the wagons were sws. the numerical part of the s series' model names indicated the trim level. this car is an upscale sw2, the most expensive
saturn
model of 1998. list price was $14,255 for an sw2 with manual transmission (about $26,390 in 2023 dollars). not many americans wanted a new car with a manual transmission in 1998, but this
saturn
has one. a 1998 sw2 with automatic cost 860 additional dollars (around $1,592 today). because the original purchaser of this car spent freely on options, including air conditioning ($960), power locks ($370), am/fm/cassette radio ($260), alloy wheels ($350) and so on, we can assume that the five-speed manual was selected out of preference and not due to penny-pinching. the biggest difference between the 1998 sw1 and sw2 can be found in the engine compartment. the sw1 got a single-cam 1.9 straight-four rated at an even 100 horsepower, while the sw2 got this dohc version with 124 horses. during the 1990s and its escalating suv craze, americans fell out of love with wagons even more quickly than they ditched manual transmissions. still, some buyers still wanted green wagons with three pedals as the new century loomed. a quick search for this car's vin shows that it was sold at the denver abandoned and confiscated vehicle auction in february. the ignition lock has been torn up and the ignition switch hangs down, awaiting a screwdriver to start the car. this car's final weeks must have been interesting.
saturn
s could still rust underneath, but it was hard to dent the plastic body panels. i'm a clown. i'm a clown!
source:autoblog.com