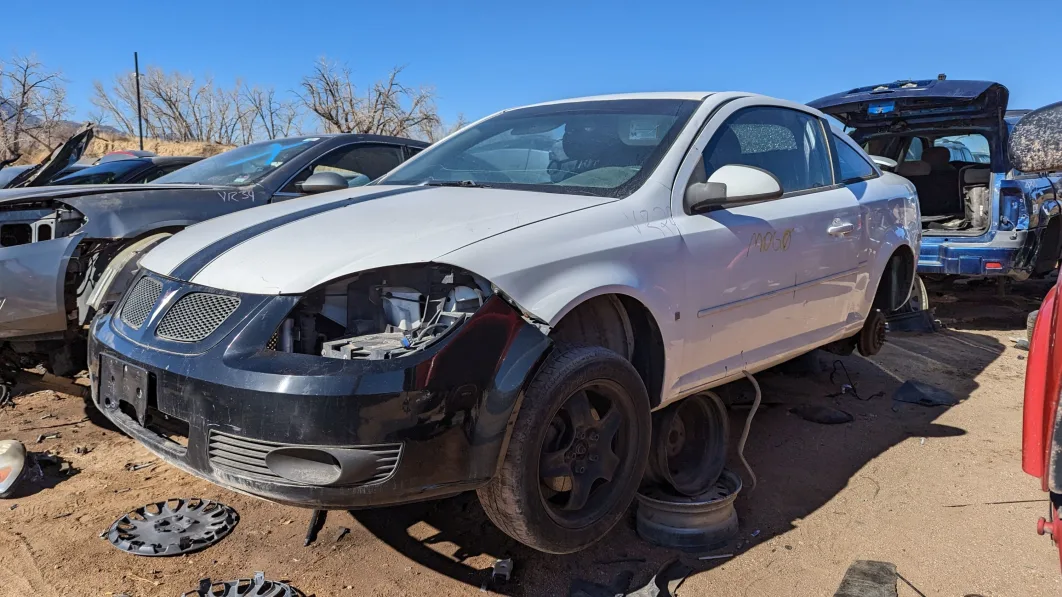 ---
in the grim early days of the great recession, the situation at gm's
pontiac
division didn't feel so great but there was some cause for optimism. the solstice still had a certain glow, the holden commodore-based g8 had just arrived, and vehicle shoppers could stride into their local
pontiac
showrooms and choose from eight different models bearing the iconic arrowhead badge. yes, there were still new torrents and grand prix and vibes for sale in 2008, and of course the cavalier-twin sunfire had been replaced by the cobalt-twin g5 by that time. here's one of those g5s, found in a colorado springs car graveyard. it wasn't long after this car was built that everything went to hell for
pontiac
. in april of 2009, gm announced that the
pontiac
division would be "phased out" over the next few years. just to drive home the point, gm itself filed for chapter 11 bankruptcy five weeks later. gm had already offed
oldsmobile
—a marque dating back to 1897, making it nearly 30 years
pontiac
's senior—five years earlier, so everybody knew there would be no reprieve in this case. just to confuse everybody,
pontiac
dealers offered a g3-badged chevy aveo (aka daewoo kalos) to sell alongside the g5 for 2009, but by 2010 there were just two new
pontiac
models still standing in the united states: the g6 and the vibe. just over 70,000 g5s were sold in the united states during the 2007-2009 model years, making these cars fairly rare. the cobalt/g5 ignition-switch fiasco of the mid-2010s really hammered their resale value at the time. sometimes the definition of "gem" refers to historical value, not the happier kind. speaking of ignition switches, the key is still in this one. that generally means that a junkyard vehicle is a dealership trade-in or insurance total that couldn't sell at auction. this one is a base model, which listed at $15,675 (about $22,040 in 2023 dollars). the snazzier g5 gt started at $19,850 ($27,911 now) that year. the engine in this car is a 2.2-liter ecotec four-banger rated at 148 horsepower and 152 pound-feet (the gt got a 2.4 with 171 hp/167 lb-ft). a five-speed manual was standard equipment, but the buyer of this car paid extra for the automatic. gm stuck these little "mark of excellence" badges on the fenders of its vehicles starting in 2005, then ditched the idea in 2009. i have vivid memories of this logo from the seatbelt buttons in my parents' 1973 sportvan beauville. the g5 began life as the canadian-market
pontiac
pursuit, then became the g5 pursuit before being sold south of the border. it seems that most of the g5 tv commercials were made for the canadian market. better fuel economy than the
scion
tc. there was a version called the
pontiac
g4 sold in mexico as well. ¡si, señor, son
pontiac
s!
source:autoblog.com