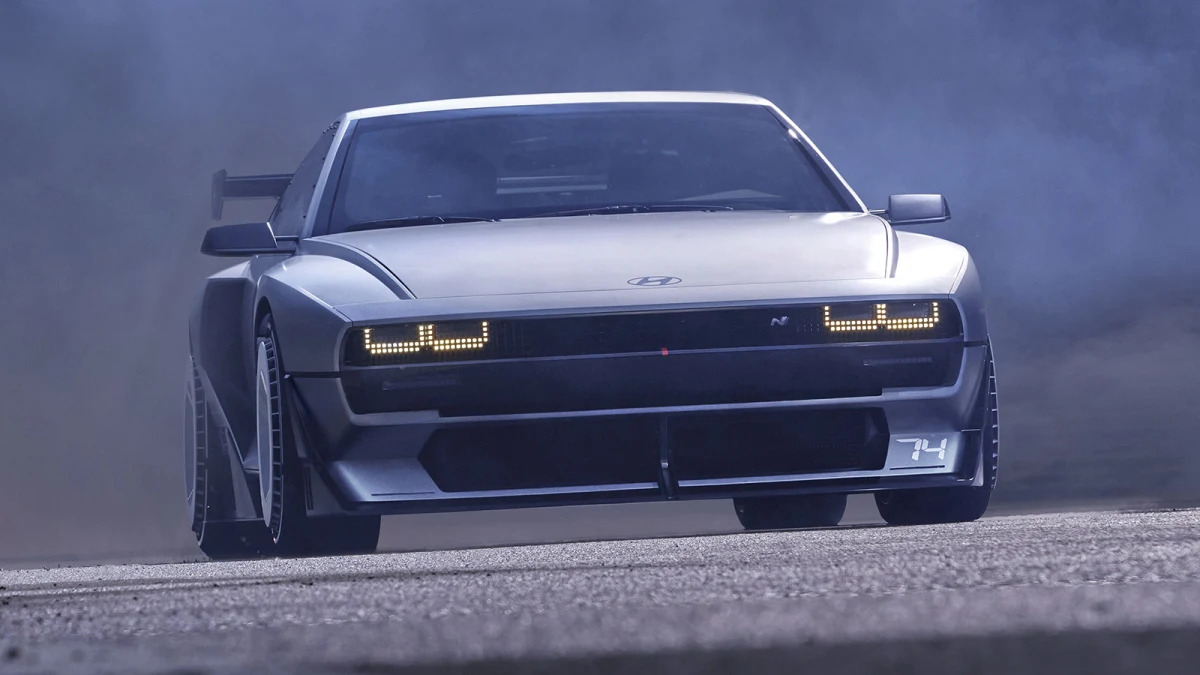 ---
hyundai
could leap into the sports car wars, and rumors were rampant this week that the n vision 74 concept could soon debut in production trim. if that happens,
hyundai
would be joining a segment where chevy and
dodge
are retrenching, and
ford
,
nissan
and
toyota
are riding their existing horses as long as possible. given that, it feels like a
smart
play for
hyundai
to take a calculated risk and make the n vision 74 real. as a refresher, the n vision 74 is a concept car that recalls the giorgetto giugiaro-designed pony concept from 1974. the new concept uses a two-motor hybrid setup powered by hydrogen and electricity, and its neo-wedge design left enthusiasts wagging their tongues when it was revealed last july. it would cut through the clutter of today's busy styling and bring something legitimately distinctive to the sports-car space.
hyundai
could also opt to make the n vision 74 a higher performance and lower volume play. for it to be realistic, though,
hyundai
has to drop the hydrogen. unless we take the company literally here, it's reasonable to assume that is just for illustration. rather,
hyundai
should make the n vision 74 all-electric with the same powertrains the ioniq 5 and 6 run, especially what will be in the ioniq 5 n. the n vision 74 is also the rare opportunity for
hyundai
to showcase its history, which in the united states is limited. the company legitimately has a concept car in its archives designed by the same guy who did the delorean and
bmw
m1. not everyone can say that. actually, hardly anyone can. a giugiaro design means something, and reportedly giorgetto's son is involved with the new project.
hyundai
has leaned into its pony heritage in recent years, announcing plans to rebuild the concept last year in partnership with giugiaro. the pony concept influenced
hyundai
design throughout the 1970s and '80s, and some of its elements appeared on the rear-wheel-drive pony hatchback.
hyundai
has also cited the concept's lineage in its electric hatch, the ioniq 5. the original 1974 concept was destroyed.
hyundai
has the well-received design and powertrain, so two key elements are in place. and as we've established, there's opportunity with the main competitors in a seeming holding pattern. but could
hyundai
really pull it off? there's precedence.
hyundai
did this before, and fairly well. the genesis coupe (back when genesis was still a
hyundai
nameplate) launched in 2010 when the mustang, challenger and camaro were formidable. all three detroit muscle cars would grow in performance for the rest of the decade. the genesis coupe more than held its own for a few years, with a notchy though engaging six-speed manual, a spunky turbo four and powerful v6. it stuck around until 2016 and showed a sporty side to a company that had offered enthusiasts very little until that point. if the
hyundai
of '08 could push ahead with a sports-car project, the much more grown-up
hyundai
of 2023 not only can, but should. risk is relative. a sports car is hardly a necessity these days. but an electric sports car is more than just a toy. it gets people excited about your brand and it's good for image.
hyundai
's sibling brands have all taken similar risks, like the stinger rear-wheel drive sedan, and genesis' ambitious strategy to embrace striking design and go all-in as a luxury maker, rather than play the value card. in this view, the greater risk is doing nothing.
hyundai
has the design, both past and present. people like it. and if the n vision 74 isn't greenlit, well someone else is going to do something like it. there will be no shortage of electric sports cars in the coming years.
hyundai
should make the n vision 74 one of them. related video:
source:autoblog.com