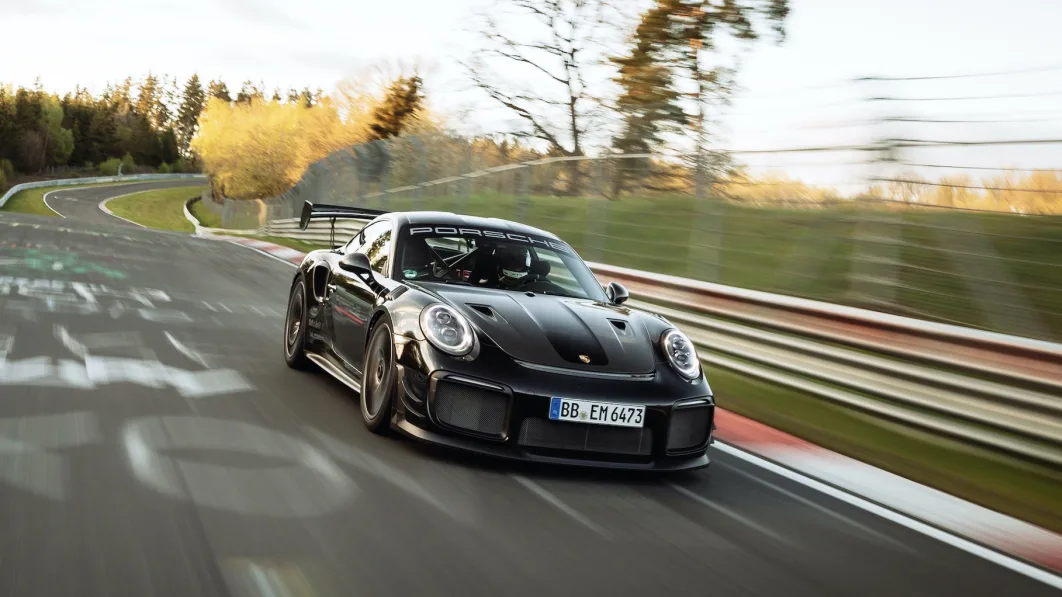 ---
the on-again, off-again hybrid
porsche
911 is happening, according to a recent rumor, and it will reportedly be much more powerful than anyone expected. gasoline-electric technology will make its first appearance in the 911 line to power the next generation of the gt2 rs. citing anonymous company insiders, british magazine autocar wrote that the next gt2 rs will land as the most powerful and fastest-accelerating street-legal version of the 911. it will achieve both distinctions by borrowing technology from
porsche
's endurance racing program: power will reportedly come from a mild-hybrid system made up of an evolution of the 911 turbo's 3.8-liter turbocharged flat-six, an electric motor and a small battery pack. some of the electrified parts will trickle down from the 24 hours of le mans-winning 919 hybrid. the same report claims that
porsche
's goal is to achieve a total output of over 700 horsepower. for context, the last gt2 rs (pictured) used a 3.8-liter flat-six that developed 690 horsepower without relying on electrification. oddly, the publication adds that
porsche
hopes to match rather than exceed the last gt2's performance figures (a 0-60-mph time of 2.7 seconds and a top speed of 211 mph). going hybrid adds weight, so the firm is allegedly going to great lengths to make the next gt2 rs no more than 220 pounds heavier than the last-generation car. mounting the battery (which could be air-cooled) behind the passenger compartment will dial in a 39/61 weight distribution. if the rumor is accurate, the next-generation 911 gt2 rs will make its debut in 2026, so near the end of the 992-generation car's production run, with a price tag of over $300,000. it will land as a limited-edition model. keep in mind that none of this is official.
porsche
has been on the fence about electrifying the 911 (publicly, at least), and it hasn't revealed what it has in store for the gt2 rs nameplate. interestingly, the report adds that the hybrid system will make its way to less powerful and more af
ford
able variants of the 911 before the end of the decade.
source:autoblog.com