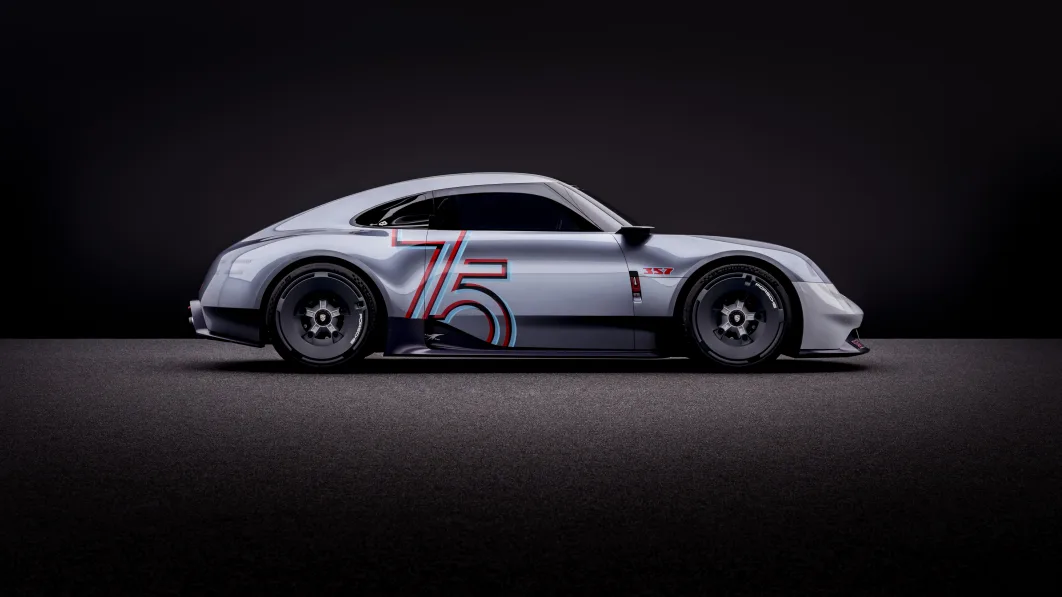 ---
porsche
is celebrating its 75th anniversary as street-legal sports car builder this year, and what better way to mark the occasion than with a modern take on the car that started it all: 356 roadster no. 1.
porsche
is paying tribute to its iconic firstborn with the not-at-all-subtly-named vision 357 — "an attempt to combine the past, present and future with coherency, featuring proportions that are re
mini
scent of its historical archetype and details that visualize the outlook for the future," says style
porsche
vp michael mauer. what we suspected would be a 911 variant turned out instead to be based on the 2023 cayman gt4 rs, but given how extensively it was modified, we doubt we were the only ones fooled. up front, the lower body elements were removed behind the wheels to allow for ventilation. the seamless frunk lid is a single piece with a quick-release mechanism (inspired by motorsports body panels) and the sills are made from sustainable natural-fiber-reinforced plastic (think carbon fiber, only with more laxative properties). this design study is riddled with homages to the 356 and the brand's racing heritage. the blacked out a-pillars make the windshield and side windows blend into a single visual opening meant to evoke the visor of a helmet. the round headlights and the rear grille surrounding the chmsl were both inspired by elements on the 356, and even the paint scheme is meant to be a throwback to the 1950s, when
porsche
says greyscale was already becoming popular with its customers.
porsche
says the wheels are meant to resemble those of the 356 a and 356 b. the 493-horsepower, 4.0-liter flat-six (along with the rest of the powertrain) comes over unchanged. normally, this is the part where we'd get into how many (or, more pertinently, how few) of these
porsche
plans to build, but for the time being, this remains a concept — a rather elaborate one at that. while
porsche
has a habit of transitioning popular design studies to the real world (look no further than the carrera rs 2.7 homage that was paraded around monterey last year; it later went into the order books as the tribute to carrera rs), this would take more than paint and some custom aero bits to realize. could it see life as a popular equipment and badge package for the 718? only time will tell. related video
source:autoblog.com