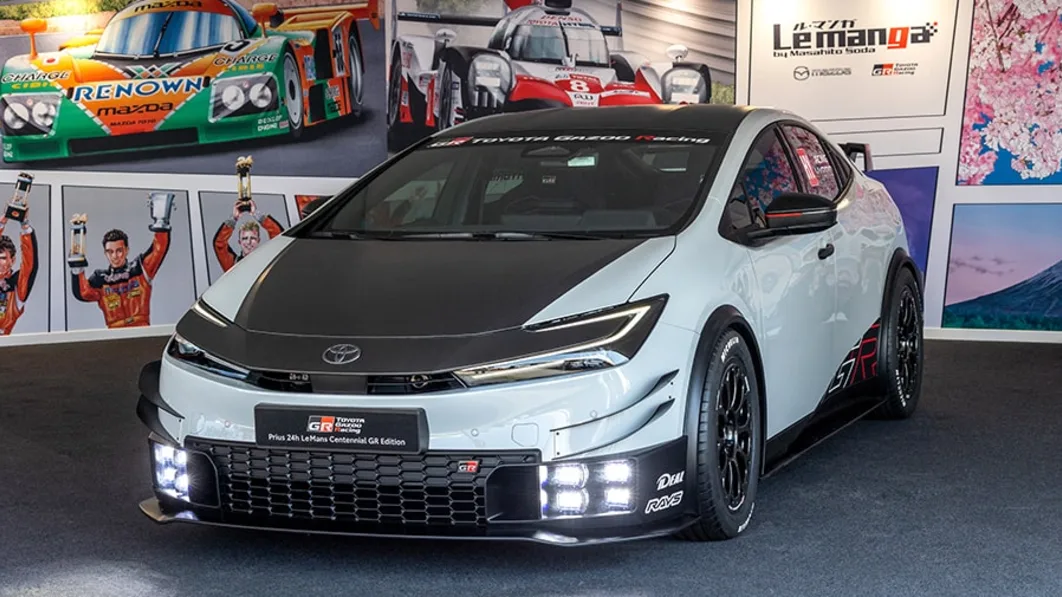 ---
the humble
toyota
prius entered its fifth generation with a far more aggressive-looking design than its predecessors, and designers took advantage of the new look to give the hybrid the gazoo racing treatment. the model is a concept, however, and its drivetrain is unchanged. only the quickest and most powerful members of the
toyota
range receive the gazoo racing (gr) emblem; the supra, the gr86, the gr corolla, and the gr yaris sold overseas all fall under the sub-brand's umbrella. seeing the prius join the ranks of gr-branded models would have been completely unthinkable five years ago, and it shows how far the hybrid segment's poster child has come in terms of design. the exterior receives most of the modifications.
toyota
added a carbon fiber hood to save weight, redesigned headlights, and a full body kit that adds canards on the front bumper, side skirts, a sizeable rear wing (on a prius!), and a rear diffuser. the 18-inch wheels sit further out thanks in part to a wider suspension system. we're told that these updates make the prius more aerodynamic while improving traction. interior photos haven't been released, and
toyota
didn't have much to say about what the concept looks like on the inside. the firm also didn't publish technical specifications, which suggests (but doesn't confirm) that it's standard prius fare beneath the sheet metal. if you're waiting for an all-wheel-drive prius powered by the gr corolla's 300-horsepower three-cylinder engine, you'll likely be disappointed. power for the stock prius comes from a gasoline-electric hybrid drivetrain (you knew that already, of course) that consists of a 2.0-liter four-cylinder engine and an electric motor. the two power sources develop 194 horsepower, which is a big improvement over the last-generation model's 121-horsepower rating but not enough to unlock a hot hatch-like power-to-weight ratio. all-wheel-drive adds a second motor and increases horsepower to 196, while the plug-in hybrid prius prime offers a 220-horsepower drivetrain thanks to a bigger electric motor.
toyota
claims it developed the concept, whose full name is prius 24h le mans centennial gr edition, to celebrate 100 years of the 24 hours of le mans. plans to bring the model to production haven't been announced, and we don't know what the future holds for it.
source:autoblog.com